Term 1 Week 6
Ash Wednesday
Our school captains and vice captains took on their first official job on Wednesday 26th February as they represented St Augustine's at the Ash Wednesday mass at St Christopher's.  The church was full of the 750 students at St Christopher's with our children holding VIP seating at the front of the church. The were presented to the community and received the ashes to be brought back to the school for our own class liturgies.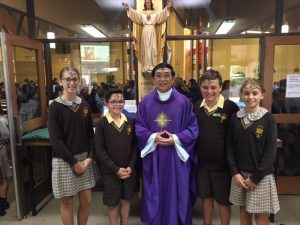 Our preps have started full time after a shorter first week then three weeks of Wednesday rest days.  I am amazed at how quickly they have settled in. There has been the occasional tear as they walk in from assembly but once engaged in their learning they soon become distracted and focus on the classroom activities.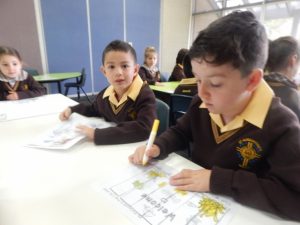 The St Augustine Education Board met for the first time this year last Tuesday night. With four new members, they were inducted as an Education Board member. All members signed a Code of Conduct and a 'Fit and Proper Person Declaration', committing themselves to the good of the students and our school for the coming year. The Education Board spent some time ratifying the school's 'Student Mobile Phone Policy'. I have attached a link to this policy for you to read.  You will also find it on our website. I ask that you support the school in implementing this policy. Take note that the policy also includes communication devices that have the capabilities of communicating outside of the school network. Examples include and are not limited to:
Mobile telephone or similar device;
Tablet device;
Laptop computer; and
Smart Watches.
I ask that parents support the school in not allowing the children to bring these devices to school unless under special circumstances as outlined in the policy.
As we continue to work towards improvement in all areas we have also been designing our own school app.  As mentioned in a previous newsletter this app will be our 'one stop shop' for communication. At present we use Flexibuzz for day to day reminders.  However as of 15th March (end of Wk7) Flexibuzz will no longer be in operation as we transition fully to the app. Ensure you download the app to continue to receive push notifications.  See 'From the Front Office' page for instructions to download the app.
The swimming program is about to conclude for our Year 3-6 classes.  The children have been enjoying their lessons at the new venue at Parkwood Green PS pool. Unfortunately two, 3/4 classes missed out on their lesson due to a bus not arriving, however, Trish Walsh has been able to negotiate with the pool and bus company for this lesson to be made up this Friday. So Years 3/4 A & 3/4M..don't forget your swimming gear!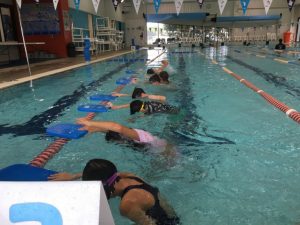 The Twilight Sports is fast approaching on Thursday 26th March (second last day of term). The past years we have seen the Parents Auxiliary and helpers run a BBQ for dinner.  We are looking for helpers to run this. This does not have to be a full BBQ but could simply be sausage in bread. It could also just be some snack food during the break such as super dupers. If you and a group of friends are willing to run this please come and see me or contact the office.
This year we are starting a St.Augustine's footy tipping competition! Mis Ash along with students have organised this as a social justice event. Students can enter individually or you might like to enter as a family. Entry is $5 and all proceeds will go towards our September Footy Colours day event, which raises money for kids with cancer. The winner will receive a $50 Rebel sports voucher. A note will come home to the eldest in each family on Friday with more information on how to enter.  If you have any further questions please contact Miss Ash agunn@sakeilor.catholic.edu.au
A reminder that anyone entering the school must sign in at the office. This is a Child Safety, OHS and Emergency Management requirement. Please don't be offended when we redirect you to the office even if you are briefly entering the building.
Cathy