Term 4 -Week 4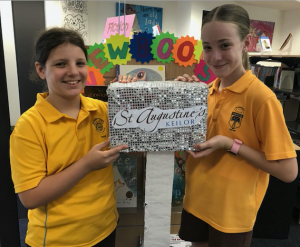 School Life
The past two weeks have been a busy time as students re-acquaint themselves with school life, socialising and working face to face with their classes. This week many of the classes have been undergoing assessments as the teachers ascertain their understandings and where to move forward with their learning. The results have been astounding! Many of the children have progressed regardless of the conditions they have been working under. A credit to them all and all those who assisted with their learning during restrictions.
School photos are finally allowed. Monday 9th of November has been scheduled for these photos. Unfortunately the photographer is not allowed to take class photos. However individual photos will be taken. The photographer will then use these photos to create a composite photo of all the children's face to create a class photo. More information on how to order photos can be found on the 'School Photos 2020' page.
This year our children have missed out on various activities that have been cancelled. The Year 6 children have especially felt the disappointment of these cancellations with Twilight Sports, Confirmation and other student run events cancelled. Graduation is another one of these events where we are unable to gather with families, staff and students.  However, we know that the end of Year 6 is a special time for the children and we want to mark this occasion with something special. For that reason we have booked the Coburg Drive In for the Yr 6 Graduation. The children will have their Graduation filmed at school with a number of other aspects of their school life included in the film.  This will then be presented at the Drive In. Yr 6 families and friends will have the opportunity to come to the Drive In and view this film while sitting in the comfort of their cars. It is thinking outside the box but the reactions of the children when informed yesterday was one of surprise and excitement!
Over the past weeks we have had a number of unwell students with many having a COVID test. If your child has had this test we ask that you send a copy of the results to the school for our files. A reminder that if your child is unwell to please keep them at home. Children will be sent home if unwell, particularly if they are presenting with COVID symptoms.
Congratulations to our students who participated in the STEM MAD showcase. These students worked with Mr Chris James on various projects including an automatic sanitiser dispenser and wildlife camera. All students used coding and robotics knowledge to brainstorm, design, improve and video their creations. To learn more about this initiative go to the 'Learning Matters' page for the videos and article.
For the past eighteen months Catholic Education Melbourne has been looking at a new governance model where the Parish Priest is no longer the employer but where the schools are owned by the Archdiocese and where the Archdiocese responsible for the governance and operation of the schools. Melbourne Archdiocese Catholic Schools Ltd (MACS) has been established to assume the governance and operation of Catholic schools in the Archdiocese of Melbourne. Attached is a Media Release explaining the changes.
Over the past fifteen years we have had Mr Pham work at the school to provide private music lessons to those students who elected to do so. After this year we say farewell to Mr Pham. We thank him for his service and for the quality music lessons he has provided.
A reminder that Monday 2nd November is a student free day and Tuesday 3rd November is the Melbourne Cup holiday.
Have a lovely extra long weekend!
Cathy