Term 2 Week 2
Vale Ann-Marie Atkinson-Keane 
Dear Parents,
Today we woke to the sad news that our beloved friend, colleague and teacher, Ann-Marie Atkinson-Keane, passed away this morning after a very quick diagnosis of liver cancer. Our hearts are breaking as we pray for her family at this sad time.
Ann-Marie started work at St Augustine's in 1996 as a classroom teacher. She also held positions of leadership over the years as a Learning and Teaching, Literacy and Reading Recovery Leader. During this time she had her two beautiful girls Lucy and Hannah who are now at university and completing Year 12.  Together with Gary her husband, she owns and ran a successful building company where they have recently renovated their house in Lorne.  Anne-Marie and her girls were avid netballers and strong members of the Lorne Surf Life Saving Club.
Ann-Marie has worked in ICT with Chris James helping set up the successful STEM program that they both have run with Ann-Marie working with the Prep, 1, 2 children. The past 2 years she has worked in 5/6A sharing a grade with Mrs Anne Durham on a Friday where she was in her element helping run the Year 6 interschool sports.
She has been a passionate teacher who always placed the children first. She has been a valuable member, colleague and friend of our St Augustine's staff and will be greatly missed. Vale Ann-Marie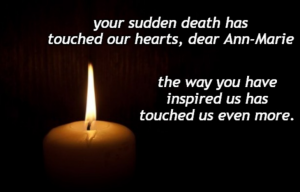 I have included two links with information on how to talk to your children about death and Primary School children and Grief. While you may have already spoken to your children about Ann-Marie's passing, the children will still have questions, some of these questions may be very challenging.
The children may not be able to attend to their work at this moment, you may not be able to attend either. One family has contacted me to say they just closed all their devices today and spent time outside and went for a walk. Please be kind to yourself.
Over the coming weeks, I encourage you to contact me, Jodie Velardo (Wellbeing) or communicate with your child's class teacher should you need any further assistance
Once we have more information regarding our farewell to Ann-Marie, I will let you know.  For now you may wish to light a candle at 7pm, say a prayer and remember the beautiful Ann-Marie Atkinson-Keane.
Cathy