Term 1 Week 8
A Time To Stand Together
The COVID-19 (coronavirus) pandemic has dominated the media and our thoughts over these past weeks.  The school has made some hard decisions in an effort to keep our community safe. Cancelling Twilight Sports and Confirmation were two of the hardest but necessary decisions. I would like to reassure the St Augustine's community that we are well prepared and in constant communication with Catholic Education Melbourne and Catholic Education Commission of Victoria (CECV). Any news or changes are passed on to the community as soon as possible. The main information to be reminded of is:
The Catholic Education Commission of Victoria is providing the latest advice from the Australian and Victorian Chief Medical Officers ensuring that our practices are helping to keep our school community safe from the outbreak
Planning continues under the guidance of CECV and the Department of Health and Human Services to prepare the school in the event of a school closure

Additional soap has been placed in each learning area and bathroom with constant discussions on washing hands and hygiene

Large gatherings including morning assemblies have been cancelled until further notice.

All staff off site Professional Learning has been cancelled until further notice

Everyone arriving in Australia from overseas from midnight on Sunday 15 March will be required to self-isolate for 14 days. This obviously includes students and staff who may be returning from overseas excursions or other travel. Importantly, it also includes parents, carers and any other relatives or friends of your students who are returning from overseas travel. As they are required to self-isolate, they must not visit the school to pick up children or for any other reason. Please remind your parents and community members of this.

You will be informed directly if there is any prospect that the State Government requires that the school be closed, either as a standalone school closure or as part of a local or area-based closure. 

Flexibuzz was due to be decommissioned last week with the school app taking over.  I have decided, that there is now an increased need for accurate and timely communication to our community.  Flexibuzz and the app will both remain in place until further notice. 
As a school we have been working tirelessly to put plans in place to support students to learn from home if required, however, while we remain open the emphasis will be on the learning and teaching currently in place in the classroom. A 'Home Learning' portal has been set up for parents and students to access should you choose/or be required to self isolate at home. A Seesaw message has been sent detailing access to this portal.  
A letter has also been sent today from the Bishops of Melbourne informing us of the immediate suspension of public liturgies and celebration of mass until further notice. I have included a link to this letter for you to read. 
It is a challenging time and I thank everyone for your support in keeping calm and going about the day as normally as possible. With all the information we are all receiving I came across this very sage advice to parents (Tips For Parents Teaching At Home). We also pray for the frontline medical staff, the scientists searching for a cure, and those who are most vulnerable to the virus. This is a time for us to continue to show compassion and understanding as we all grapple with the implications of the virus on our lives. As much as we wish there might be a playbook for the situation we all find ourselves in, it has not been written yet. What has been written is the command to love our neighbours and to act with kindness wherever we can. I thank you for the close and loving school community that you continue to help us build, and I appreciate your unwavering support.
The newsletter is being published on two platforms as we transition to our new format.  You will find it also on the schools website under 'Newsletters'. Something to note is that at the end of each article you will see the number 1, 2, 3, 4, etc.. This does not indicate the next page but the previous week's article under this page.  To move to the next page click on the link headings on the left hand sidebar.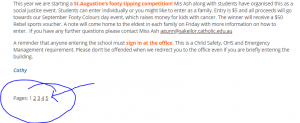 The term will soon come to end with next week, the last week of term 1. We finish at 1pm on Friday 27th March.  We will be drawing the Easter Raffle over the PA system, just before we finish for the day. This is another health and safety precaution we are putting in place. We are still calling for donations towards toe Raffle. Please send all chocolate eggs to school with your child.
School Photos will be taken in week 2 of term two – Monday 20th April. Children are required to wear their full summer uniform with all long hair tied back, no jewellery except for sleepers or stud earrings. Details of online ordering available soon.
Cathy