From the Principal
Week 10 . November 2019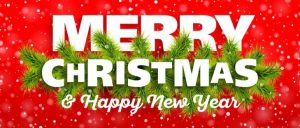 What a wonderful way to finish off the year with our Christmas liturgy run by our Prep-1 children, children caroling us last night and the walk in the park today. These are always events to look forward to as we celebrate the very essence of who we are at St Augustine's-spirit filled and full of life and learning! And so another year has come to pass and in amongst the chaos and mayhem of this busy period, we stop and reflect on the year that was, the memorable moments, the lessons learnt, and the friendships gained and strengthened. St Augustine's has had an eventful year as we celebrated our 40th Anniversary through our art show, St Augustine's feast day and morning tea and through a step back in time with our many old photos, displays and amazing timeline trail. We now have a tiled mural with all our 2019 families represented to remind us of the exceptional  community from 2019. It has been a year of celebration and great learning.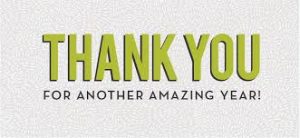 The year could not have been so full and rich without the support of so many.  Thank you to the staff who continue to provide a warm and welcoming environment where they focus on high impact learning and teaching and who continue to support the vision of the school. Thank you to our families. It has been a full year of volunteering from the, carols BBQ, reading parents, excursion volunteers, book coverers, classroom helpers and culminating in the 40th year celebrations. A special thank you to our hard working Parents Auxiliary who have provided so much for the children including lunch orders, fundraising drives and BBQs. The upgrade of the top oval playground is a testament to their hard work and your support. Thank you to all the 2019 Education Board members who have supported the school and myself this year.  The partnerships that we all forge together continue to have a profound impact on the children emotionally, spiritually and academically. All your support has been greatly appreciated. Thank you to our children who provide us with the reasons we do what we do. Your thirst for knowledge and friendship keeps us all eager to do our best, make a difference and be the difference! Farewell to our Yr 6 children and 19 Yr 6  families where this is also their final year. We say farewell to these families: Barr, Ciacic, Hadathy, Holland, Horvat, Kishta, Kotevski, Mazzacca, Meiers, Milardovic, Miller, Nguyen, O'Connor, Pizzonia, Popovic, Pravica, Puli, Sorbello and Tenaglia families. May the Holy Spirit continue to guide and support you throughout your life long journey.
At the Christmas liturgy our new School Captains were announced. Thank you to our outgoing captains, Johnny and Lauren, for their leadership this year and the support and maturity they have offered to the role.  Thank you to the vice captains, Harry and Sienna, for the way they supported our captains. I thank them for representing the students and St Augustine's with such grace and pride this year. Congratulations to our 2020 captains. School Captains; Thomas Antonius and Elizabeth Corluka, Vice Captains: Isabelle Gold and Jack Mangion. I look forward to your student leadership next year.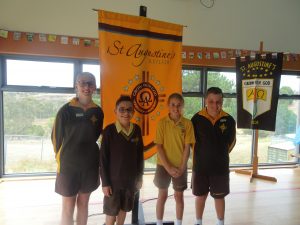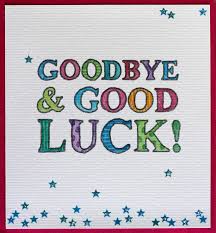 This year we have staff who are leaving after many years at St Augustine's. We say goodbye to Olivia Boyd who has been with us for 7 years and has touched the lives of so many children and families working in years prep through to year 4.  We wish you well at your new school and on the journey ahead.
We also say goodbye to Jacqui Crane who has been at St Augustine's for 13 years. Jacqui has spent this time as classroom teacher and our Numeracy Leader. She has led the staff to thinking broadly about Maths and to introduce many innovative and successful practices and pedagogy. This in turn has seen our children flourish in the area of Mathematics. We wish you well on this new part of your journey.
And finally we say goodbye to Brenda Cheel who retires at the end of the year. It is not often that we can say that we have met someone who has been in education for 50 years, 15 of those at St Augustine's. What an amazing legacy she leaves at St Augustine's as a role model of love and care for all the children who have ever been under her care. She has influenced so many here including children, teachers and families. Her genuine concern for the child, their wellbeing and improvement has seen so many flourish under her care in Reading Recovery and we thank you.  We wish her great happiness and joy as she begins her retirement.
We welcome five new teachers to the St Augustine's family in 2020. Welcome to Natasha Vella, Shayna McKay, Selena Tonzing, Bridget Tadic and Clare Kheir.  We also welcome three new Learning Support Officers; Georgia Peel, Michelle Borg, and Daylene Law who are all excited to join us on our journey as we are excited to have them here! Please follow the link to view the staffing for  2020 
The children will be finding out their teacher and classmates on Monday morning. Class lists for 2020 have been diligently and robustly worked on over the past month with every child looked at and considered. This is a careful and rigorous process. Please trust that  the staff has spent many hours ensuring we place students with groups having factored in many, many elements. Things such as gender balance, academic balance, balance in types of learners, friendships etc… are all taken into consideration when working on these lists. This time of year and through the process of generating classes for the following year, is a great opportunity to have conversations with your children about resilience and accepting things that are beyond their control. Your child may not have the teacher you or they hoped for. However, let me reassure you that all staff at St Augustine's are excellent practitioners who always have the child at the heart of what they do regardless of styles of teaching. This is a chance to talk to your child about resilience and adaptability. Resilience is your ability to cope with tough times by applying your inner strength and engaging support networks. Resilience can not only enable you to face difficult situations, but often provides an opportunity to further develop your coping skills. Resilience enables you to better cope with challenging situations, and helps with your mental wellbeing.
The children's school year finishes on Wednesday 18th December at 1pm.  We will draw the Christmas raffle and say our final farewells to the Yr 6 children. This will commence at 12.30pm.
I wish you all a very happy Christmas and new year. I hope that you have time to spend with family, friends and loved ones and that the joy of Christmas brings you peace, hope, joy and love. And hopefully some rest and relaxation!  I leave you with this Christmas prayer from St Augustine of Hippo.
Cathy
The Christmas Prayer of Saint Augustine of Hippo
Let the just rejoice, for their justifier is born. Let the sick and infirm rejoice, for their savior is born. Let the captives rejoice, for their Redeemer is born. Let slaves rejoice, for their Master is born. Let free men rejoice, for their Liberator is born. Let All Christians rejoice, for Jesus Christ is born.
–Saint Augustine of Hippo