From the Front Office
---
Closure Day
Monday 2nd November is a Curriculum Day- This is a Professional Practice Day for staff and a Pupil Free Day.
---
Returning Students 2021
Thank you to all families who completed the "Returning to School" form on the notifications.  We still have families who have not completed the form as yet.  As we are currently planning for 2021, can you please advise the office as soon as possible whether your child/ren will be returning to St Augustine's in 2021.
---
Change of Details
Also please keep the office up to date with any changes to your details, ie, address, phone numbers, emergency contacts.
This can be done via email to: office@sakeilor.catholic.edu.au
---
Student Absence
A reminder to please fill in the student absence form on the App if your child/ren will be absent from school.  This should be done prior to 9.00 am .
---
School Photos
School Photo Day is on the 9th November 2020.  Advancedlife Photography will not be issuing envelopes this year as in previous years. See steps below for online ordering.
If you have any queries regarding your child's school photo order, please email info@advancedlifevic.com.au or phone 98521133.
Click on the pdf for a clearer picture or print out instructions: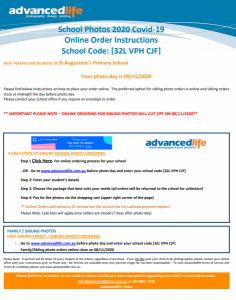 ---
Footy Tipping
Footy tipping has finished up for 2020 and what a challenging year of tipping it was. No home ground advantages, short turn arounds and lots of big upsets. Thank you and well done to all those dedicated tippers out there. All money raised was donated to help kids with cancer have access to education during their treatment.  1/2R was the winner of the 2020 footy tipping comp finishing  with 118 points after round 18. Well done to Miss Rotilli and 1/2R. They won a $50 Rebel sport gift voucher.
Parker M from 1/2 was the winner of the goal kicking comp chosen by Carlton AFLW player Mua Laloifi. Parker won a prize pack which included a $30 Rebel sport voucher. Well done Parker!