Term 1 Week 8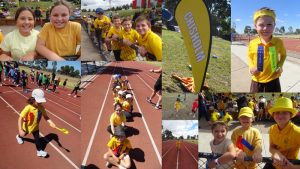 I start this newsletter off full of joy and awe after a very successful Whole School Sports day held last Wednesday at the Keilor Athletics track. It was the first time in over a year that our children have been on a bus to another venue and the first time our year prep and 1 students had been on an excursion! The change to a 'daytime' carnival meant the Yrs 3-6 had time to experience events such as shot put, high jump, long jump and discus.  The junior children enjoyed the novelty activities in the middle of the field with all children enjoying running races on the track. Miss Ashleigh organised the day with military precision and detail which meant we were all back at school, safe and sound, by 3pm. Children have approached me with comments of: "That was the best day ever!', "I had so much fun", The hot dogs were the best", and 'Being in my team and chanting with them made me so excited to win". Congratulations to all our House Captains as they showed great leadership in keeping the team's enthusiasm going and chanting throughout the day. Thank you to the Parent's Auxiliary for organising the hotdog lunch orders. It added to the enjoyment of the day. Thank you to all our parent volunteers who worked hard to keep the events flowing. Thank you to the staff for their organisation and focus on the day. Thanks to Ms Ash for your precision, detail, enthusiasm and enormous amount of time organising the day.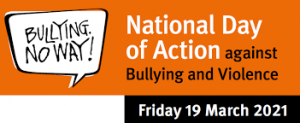 This week we recognise the 'National Day of Action against Bullying' on Friday 19th March.  The week was spent providing students with the opportunity to talk about bullying and discussing what bullying is and isn't. The National Day Against Bullying gave us the chance to empower the students to be part of the solution when addressing bullying in the school community. It provided an opportunity to focus on bullying and the changes we can make to help create a safer community for everyone.  The children have all been given a ribbon to remind them to, 'Take A Stand Against Bullying!'  and prompt cards for students and parents. 'Bullying No Way!' is everyday at St Augustine's but this week reminded students that they have a voice and the right to feel safe. 
This Friday our Yr 6 children will celebrate Confirmation with Fr Peter and Bishop Terry Curtin presiding over the  evening. The children have participated in many activities and learning in a lead up to this night. We are blessed to have Bishop Terry with us for the two Confirmations.  This sacrament completes the sacrament of Baptism.  It is the sacrament by which we receive a special outpouring of the Holy Spirit and the increased ability and maturity to practise our Catholic faith in every aspect of our lives and witness to Christ in every situation.  We keep in our prayers, the year six children who will be Confirmed at St Christopher's church on Friday evening and ask the Holy Spirit to guide them in their lives.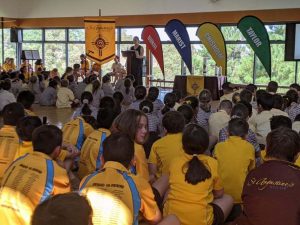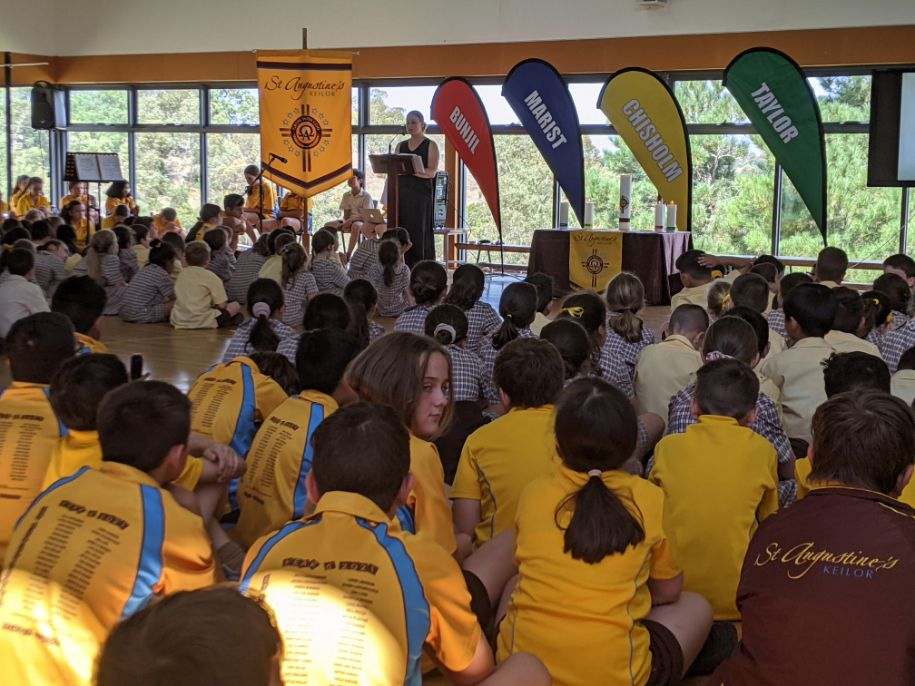 Last Friday we celebrated our beginning of year liturgy led by Mrs Dal Santo and the children.  It was a beautiful time to gather and give thanks for all that we have and for the teachers to be blessed and read a prayer of commissioning as they commit to the learning and teaching of all. The Choir and Ukes performed for the first time this year under the guidance of Miss Logozzo and have give us a taste of what's to come! 
It's hard to believe but we have already conducted our Prep 2022 information sessions and tours for prospective parents. The past two weeks we have had over 70 families come along to St Augustine's to tour our school and listen to myself, Trish Walsh and Jacinta Fedoruk talk about out wonderful school. These moments allow us to reflect on the good work of all to create a peaceful and safe environment for our children. No wonder so many families wish to join us in 2022!  Remember to inform the office if you have a prep child starting in 2022.
As I write this newsletter I watch a sea of red, white and green in the playground as we celebrate 'Carnevale'. The Italian program, led by Signora Di Lorenzo, has been an integral part of our school for many years.
Through the Italian program the children have been learning about this famous Italian festival.  Not only does this festive event celebrate italian traditions but also reminds us of the many cultures represented at St Augustine's! There are many 'Mario Brothers', pizza makers, gondoliers and a special appearance by the goddesses of Roman ancient history (AKA Mrs Fedoruk, Mrs Clare, Mrs McBean and Mrs Dal Santo) The children and staff have been having a great day as they eat gelato, learn the Tarantella and have their photos in Italy (via our green screen) or use the VR goggles to explore Rome and Venice! If we can't travel at the moment then this day is a great substitute!
Cathy