Term 1 – Week 4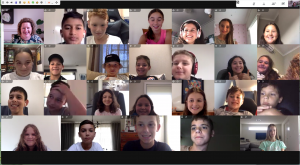 5/6AC Attending a Morning Google Meet
It is with great joy that I write this newsletter as our children and families venture back onsite after the 5 day lockdown. Thanks you for responding so quickly and positively to the school lockdown. We had some children still onsite but most were able to stay home, continue their learning and stay connected to the class during the 5 days.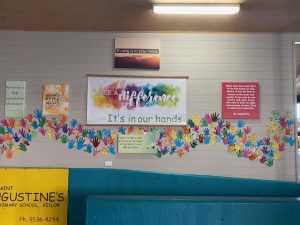 This year we continue to celebrate the difference we can make with each other, with the school and with the community. The 'Make A Difference' theme this year is extended to 'It's In Our Hands'. Each child and staff member has discussed this and explored what this means to them. They have also traced their hand, decorated it and cut it out. A display is being assembled under the 'Make a Difference' sign to represent the St Augustine's community coming together to make that difference. I invite parents trace and cut out a hand to add to the display. As a school community making a difference is up to all of us and in our hands. Don't forget to put your name on the cut out hand, decorate it and send it to school with your child where we will add it to our display.
| | | |
| --- | --- | --- |
| School Captains | House Captains | |
| Cooinda Crew | Toddler Time Team | Library Liaisons |
| Tech Wizards | Press Club | Environmental Warriors |
| Social Justice Advocates | SRC Leaders | Music Maestros |
Our student leadership program with Leadership Positions and Positions of Responsibility announced to the school last Thursday. Each position brings with it certain skills, enthusiasm and responsibility. The children will participate in leadership activities and conduct their role during relevant times in the year with all our Yr5/6 children awarded a place in one of the following positions. Congratulations to all the 5/6 students who I know will fulfill these roles with great passion.
2021 Leadership Positions and Positions of Responsibility
School Captains

SRC Leaders

House Leaders

Social Justice Advocates

Environmental warriors

Press club (inc sound & video)

Music Maestros

Tech Wizards

Library Liaisons

Toddler Time

Cooinda Crew 
Thanks you to all families for attending the Parent Teacher conversations last Wednesday. The teachers found the time spent with you an invaluable experience to learn about your child and ways they can work with them this year.
A reminder that we are a No Food Sharing school. We have many children with allergies and anaphylaxis so I ask that you remind children not to share food with friends. If you want to provide a treat to the class for your child's birthday please do not supply lolly bags or cake. A party favours bag with pencils, cards, jokes etc.. is another way to help the class celebrate the birthday.
Last year we were unfortunately not able to conduct our Twilight Sports at Keilor Athletics Park. Due to ongoing density restrictions we will be modifying the event this year. Unfortunately we cannot accommodate parents attending due to density limits however we will still hold the event during the day on the 10th March and bus the children to the track. It is disappointing that we cannot have families attend as spectators, however, we will continue to provide the experience for the children who will no doubt still have a great day.
18th March will see the school transform into a sea of colour and fun as we celebrate 'Carnevale' Signora Di Lorenzo has organised activities for the children during the week of Carnevale culminating in a dress up day on the 18th March. All children will be given 'gelato' to celebrate the day and participate in a costume parade. See the 'Learning Matters' page for more details.
While in lockdown the beginning of year mass was cancelled. We will reschedule this at a later date. Each class was able to hold a small Ash Wednesday Liturgy during their Wednesday Google Meet. Ashes will be given at a later time to all staff and students.
To mark the beginning of the school year, Archbishop Peter A Comensoli has written to school communities in the Archdiocese of Melbourne to offer his prayerful best wishes for the year ahead.  I share this letter with you.
A reminder to inform the office if you have a 2022 prep child. This ensures we keep abreast of numbers and ensures their place for 2022.
Cathy