Term 1 – Week 2
Welcome back everyone! Welcome to a bright year of new beginnings and possibilities! 'Make A Difference' has become our school mantra with a new focus each year. This year it is, 'It's In Our Hands.' The imagery with hands coming together, many hands make light work and the Bible reference of Jesus as the potter working the clay gives us great scope to focus on us, together as a school community, making a difference. This newsletter is a particularly long one as we inform you of any variations and changes to school processes. Grab a cuppa and a comfy chair before you start reading it!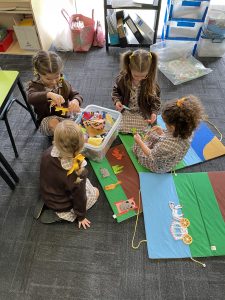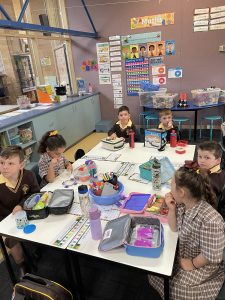 I have been very thankful that I can welcome families onto the school grounds this year. The students have adjusted to the morning changes well. We welcome our 40 new prep children who starting on Monday. We welcome the  Boskovic, Calvi, Cassar, Dimech, Dzidzic, Incata, Johnson, Pagnin, Rowe, Vella, Buttigieg, Calleja, Crockett, Domazetovski, Gerges, Gialelis, Grixti, Jurcec, Long, Norton, Previti, Quattrone, Schembri, Scozzaro, Steele, Yu families and the Warner family in Grade 1. We hope you find St Augustine's to be the welcoming, innovative and caring school that we are known for.  We also welcome three new staff members, Mrs Rachel Allan-5/6VA (Thursday), Miss Elisabetta-Logozzo Music and performing Arts and Mrs Daniela Grech Learning Support Officer in PrepB.  
It has been great to see the students wearing their  St Augustine's uniform proudly. Children are in brown school shoes and those who are not have spoken to me about why this is the case. A reminder that correct uniform is expected each day. PE uniform to be worn only on PE days (Yr 6 wear PE uniform on inter school sports days too). Ensure any hair longer than shoulder length is tied back in a ponytail for both girls and boys. Please note that girls are to wear fawn school socks and tights not chocolate brown. School hats are to be worn during first and fourth term. This Thursday the Yr 6 children will be presented with their personalised Yr 6 graduation shirt. 
Assemblies are now scheduled for 3pm every Thursday. We invite parents to attend if you are able as we conduct this assembly outside and on the asphalt area. During inclement weather assemblies will be held internally over the PA system with children remaining in their classrooms. If you are able to attend the outdoors assembly remember to: Social distance 1.5 distancing (wear a mask if this is not possible)
Yr 6 begin their interschool sports competition this Friday. They will be playing away games this week. Due to ongoing restrictions only the children, staff and volunteer parents are able to attend. Unfortunately this is also the case when we play home games.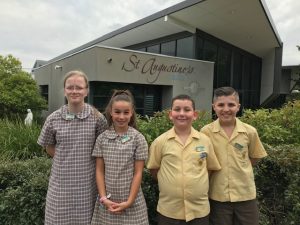 Congratulations to our school captains who were announced on our last day of term in 2020. I look forward to working with them and developing their leadership capacity. The school captains are: Sienna Bouris & Kristijan Clark. Vice School Captains: Marley Kelly & James Young. Our senior leadership program involves all Year 5/6 children. Each child will have a role within this program. House Captains and Leadership Responsibilities will be announced at our beginning of year mass. The mass will be held on Tuesday 16th February. There is usually an invitation for families to attend as we celebrate as a community. Unfortunately we will only be able to have students and staff attend due to density limits. Cooinda is not big enough to accommodate more than the staff and students. It is disappointing that we cannot have parents in attendance, however we will strive to provide the children with the opportunities they missed out on last year. 
Parent teacher conversations will be held next Wednesday 10th February.  Children will be dismissed from school at 12.15pm with interviews commencing at 12.30pm. The school will still provide childcare for those children who cannot be picked up before 3.15pm. A registration form has been sent via the app but is also available on the 'Learning Matters' page in this newsletter. Your child will need to be booked in if you require them to stay until 3.15pm. Children will be supervised in the library where you can collect and sign them out. Classes that are in the portables (5/6L, 5/6AC, 5/6VA, 3/4S & 3/4A) will be conducting interviews in Cooinda while internal classrooms (all 1/2 classes and 3/4M) will be conducting Learning Conversations in their classrooms. A sign in process will apply. Prep families will be allocated a time to meet with the teacher during the next 3 weeks on the Wednesday day off.
Thank you to the families who have already booked a time to meet with the teacher. Bookings close on the 9th February at 4pm.  If you are yet to do this you need to access the 'schoolinterviews' site www.schoolinterviews.com.au with the school event code: jfpmm. These conversations are to begin the relationship between yourself the teacher and the child and to assist the teacher  with any information you feel is needed to promote a successful and positive year.
At St Augustine's we encourage ongoing communication between home and school. Children will often come home with stories about their day that bring joy but at times may concern you.  The appropriate way to communicate with the school is to first make an appointment with the teacher to discuss the concern.  We know that stories can be misconstrued or take on a different perspective through the eyes of a child. A teacher can help clarify the issue and assist in helping the distressed child. Email is an efficient and effective tool that supports timely communication. It strengthens the goodwill and the positive partnership between parents, students and the school to enhance the well being and learning opportunities for students. Emails are an efficient way to set up a suitable time to speak to a teacher rather than become a discussion about your child's academic progress, learning expectations or behavioral issues. Emails should be short, to the point and contain only essential facts. Teachers will take the discussion offline and call for a meeting if they feel that ongoing discussion is required. Be aware that 'out of hours' or 'in class time' emails may not be answered immediately nor will staff respond to abusive or aggressive emails. They will be responded to within 2 working days from receipt of the email. Parents should contact the office to inform a teacher of matters of immediate urgency eg. a child needing to go to after care, a change in pick-up arrangements as emails might not be read in time to act upon requirements. Teacher emails are the first letter of their name followed by their surname and @sakeilor.catholic.edu.au eg. Adele Mifsud – amifsud@sakeilor.catholic.edu.au. A list of staff is included on the 'Noticeboard 'page in this newsletter.
Flexibuzz will no longer be used as a messaging system this year. We will be using the school app. It is important that you have the app downloaded onto your phone to receive messages. Last year showed us that this messaging was essential in regularly contacting families. In some weeks this was daily with the ever changing nature of restrictions!  The newsletter will also only be published on the website platform. Parents will receive a notification and link when it is published fortnightly.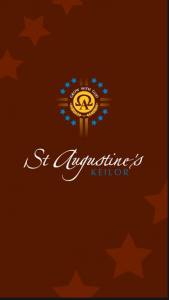 School App 
A reminder to use the school app to report a student absences. Open the app and the 'more' link where you will find the link the 'absentee form'. It has become a mandatory requirement to inform the school of your child/rens absence. 
St Augustine's has a long history of partnership with our families.  The Parents' Auxiliary are a very active group in the school who organise events such as lunch orders, mothers and fathers day stalls, fundraising drives, Bunnings BBQ and more. As with most years we often see a turnover of participants as children move from the school. We are always looking for new members with fresh ideas and energy.  The first meeting this year will be Friday12th February at 9.00am  in Cooinda. While last year resulted in minimal fundraising we are hoping to re introduce more of this during the year (fingers crossed!) I encourage you to come along with a friend and join this dynamic group. We really need your help to ensure we can continue to provide these events for our school community.
A reminder that there a a number of different protocols in place this year for parents when dropping off, picking up and when coming on to the school grounds. It is important to remember that the drop off zone does not have anyone parking or leaving their car to ensure a smooth and efficient flow of traffic. If you want to enter the school grounds during drop off or pick, please park beyond the school in surrounding streets of further down Augustine's Way.
DROP OFF
School gates open at 8.30am

Do not congregate at school gates before this time- social distancing rules still apply

Parents can walk children into school grounds between 8.30am and 8.45am and remain on school grounds for no more than 15 minutes.  Please do not park in the drop off zone in front of the school. Park in side streets or further down Augustine's Way

Be sure to socially distance at all times. 

Drop off zone will continue between 8.30am and 8.45am for all students.

Do not park in the drop off zone

School bell goes at 8.45am where children will then calmly walk to class. There will not be a morning assembly
PICKUP
School day ends at 3.15pm

Parents may enter school grounds and wait for their children on the asphalt area and remain on school grounds for no more than 15 minutes. 

Please do not park in the pick up zone.

Park in side streets or further down Augustine's Way

Adults need to be sure to socially distance at all times. 

Teachers will bring children to the pick up zone or asphalt area.

The pick up zone will continue (no designated A-K, L-Z pick up time)

Please be patient as we move cars through the pick up zone
Parents may enter the school at other times but must report to the office at all times and wear a mask. You will be asked to sign in if you are here for an extended time of more than 15 minutes.
If you need to drop your child/ren off earlier than 8.30am please contact Big Child Care as they run an excellent before and after school care program in Cooinda. There are rebates available upon application. Go to the 'Noticeboard' in this newsletter for more details.
Thank you all for a great start to the year!
Cathy