Term 3 Week 4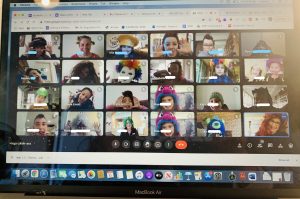 1/2 T on their Google Meet – Crazy Hair Day
So here we are again as we start another lockdown. It is distressing and frustrating but I give thanks that we are safe and well. The frustration also lies in the back and forwards to school learning and online learning. For some it is a seamless process but for many others the thought of more online meets, sitting at home, all day on a computer with little social interaction is devastating….for students, staff and parents.  The children will learn despite us. So 'do what you can do. I met with all the classes online this morning and there were more cheery faces than last night after the announcement. Next Wednesday will be 'Wellbeing Wednesday' where teachers will meet with the class in the morning and explain wellbeing activities organised by Mrs Jodie. It is a day to alleviate stress. And a day of self care for everyone! I look forward to hearing about some of the fun things you do on this day, even if it is a big sleep in!
During the year emails have become a main source of communication between families and the school. The teachers are vigilant in responding or making a phone call in response. Please note that teachers are in class all day and may not be able to get back to you immediately. They will endeavour to get back to you within 2-3 days depending on the nature of the email. Please be respectful in you emails and always start with a greeting rather than just launch into your message. Keep it brief and to the point. The teacher will then either respond via email or call you. I am very proud of the caring and compassionate staff at St Augustine's who always have your child's best interest at heart. They are all professional in their approach with great knowledge and skill. Trust that they offer advice and strategies from a wealth of knowledge and experience in the teaching profession.
We welcome Mrs Rachel Allan and Mrs Lana Gusak as the teachers in Prep B for terms 3 and 4. We also send best wishes to Anna, Paul and DarciRose Bird as they await the arrival of Baby Bird. Can't wait for this good news!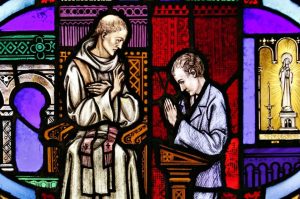 Thank you to Mrs Vanessa DalSanto, Miss Adele Mifsud, Miss Shayna McKay and Ms Selena Tonzing for the way they prepared our children for Reconciliation on Wednesday night. It was third time lucky but we squeezed it in before lockdown. Congratulations to the Year 3 children who were reverent and attentive during this sacrament.
Throughout 2020 and 2021 the building project has been gathering momentum. It is a slow process from receiving the $1,500,000 grant for refurbishment and upgrades to the many permits, permissions, planning meetings, surveying meetings and drawing specifications! I continue to meet with our architects Roam Architects and MACS consultants as they guide and advise through this process. We will hopefully start work in early 2022.
Our school production rehearsals continue during Performing Arts lessons with Ms Logozzo. The committee has met on a number of occasions to work out logistics. Parents have begun to make and sew costumes. The children are beginning to see the Performance take shape and the excitement is growing. Ms Logozzo will be meeting with yrs3-4 next week and sending lessons to other classes where the focus will be on continuing to rehearse their acts. Fingers and toes crossed that term 4 week 3 we will all be together at Moonee Ponds Clocktower watching the St Augustine's production!
Have a restful weekend,
Cathy Steere