Term 2 Week 8
Our lives have been once again turned upside down with the lockdown over these past two weeks. It has affected us all in different ways and we have all coped in different ways. Needless to say it is not something we would choose but know this is our reality.  At St Augustine's we have continued with learning, collaborating and socialising regardless of restrictions albeit within restriction guidelines but we have continued nonetheless and managed well. I congratulate all families for your perseverance during this tough time. It is difficult supervising children while you are also expected to attend to your own work demands. It is frustrating when things are not working as planned so I thank you for persisting and doing better than your best. No matter how you worked through the past 2 weeks you worked better than your best! Thank you to the students for their attendance and working through it all. Thank you to the staff who have been the drivers in ensuring our children have continued to  engage with their learning. See you all tomorrow!!!
As you know there have been a few events cancelled over the past 2 weeks. These will be rescheduled and new dates communicated with you once confirmed. The Pie drive has been cancelled and rescheduled for later in term 3.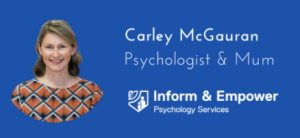 Last Sunday we were able to offer families the opportunity to attend a free webinar run by Carley McGuaran. Carley is a psychologist and mum who we have worked with over the past years particularly around the topic of cyber safety. Carley ran an online webinar focusing on tips for families to manage lockdown. She spoke about reducing stress, self care for parents, and many other issues relevant to us all at the moment.  I know I had many 'Aha!' moments throughout the session. It was an engaging and informative session with such a warm and 'real' presenter.  This was offered to a number of schools with St Augustine's being well represented with participants. Such is the care and passion that Carley has to help others that she has provided the link to the recording of the webinar to share with our community. I urge you to watch this webinar as I know you will draw something from this experience! This is the link to watch this fabulous parent resource!
Last Thursday the staff managed to have a full day of learning with Helen Butler who worked through a focus on Learning Intentions & Success Criteria and using these as a means of feedback to students about the learning and as a guide for students to set learning goals. We hope to work with Helen as we focus on our children developing as animated learners where they are engaged with their learning, take responsibility for their learning and can talk about their learning through questions such as:
What are you learning?

Why are you learning this?

How are you learning this?

How will you know when you have learnt it?

What are my next steps in my learning?
These questions can provide feedback to teachers about how instruction can be tailored for each child to achieve and succeed and for children to take ownership of their learning while understanding that error is not a deficit but allows for opportunity. "Error is the difference between what we know and can do, and what we aim to know and do." John Hattie
While we will be back onsite tomorrow (Friday 11th June) restrictions are still in place.  Until further notice parents are not able to come on to school grounds unless you are visiting the office for a brief moment or in an emergency. Please wear a mask, socially distance at all times and sign in using the Vic QR code if you need to come on site.
We continue with dropping children at the gate and waiting for them outside the school gate at pick up time. 
Do not leave your car if you are parked at the Pick up zone! Social distance and wear a mask if you have walked to school.
DROP OFF
Do not leave your car if using the drop off zone

Do not park in the drop off zone

School gates open at 8.30am. Stagger your drop off  between 8.30am – 8.45am

Do not congregate at school gates before this time- social distancing rules still apply

Park in side streets or further down Augustine's Way

Be sure to socially distance at all times

School bell goes at 8.45am where children will then calmly walk to class. 
PICKUP
Do not leave your car if using the pick up zone

School day ends at 3.15pm. Stagger your arrival between 3.15pm – 3.30pm

Please do not park in the pick up zone. Park in side

streets or further down Augustine's Way. Socially distance at all times and wear a mask

Teachers will bring children to the school gates

Please be patient as we move cars through the pick up zone
Parent teacher interviews are scheduled for Wednesday 23rd June. These will be all online through a Google Meet set up by the class teacher. Interviews will start at 12.30pm until 6.00pm. Please read information on the 'Learning Matters' page and follow the links to book in an interview. You will be sent a Google Meet link by the teacher to attend the meeting at the designated time. Instructions on how to join will also be sent. Students finish at 12.15pm on this day. However if you are unable to collect your child before 3.15pm we will have supervision onsite. Follow the link on the 'Learning Matters' page to register your child for this supervision.
Cathy