Term 2 Week 6
Once again we are in lockdown. How things can change in 24 hours! Information has been sent home with lockdown details via the school app. All families must have the school app downloaded as this continues to be the main avenue to send regular updates and information. Please be kind to yourselves and keep safe.
I am still pleased to publish this week's newsletter as we continue to highlight the good work at St Augustine's.
This week the staff are participating in two Professional Learning days with Thursday and Friday pupil free days to accommodate this. Today focused on Evidence Based Learning where facilitator, Helen Butler, led the day. Learning Intentions, Success Criteria, goal setting and feedback were the main areas of learning with a chance for teachers to collaborate together in teams to plan future learning for their class. The second closure day (tomorrow) will focus on Digital Technology. These Professional Learning days are integral to keeping us all contemporary in our approaches as we all continue to be lifelong learners. Attached is a summary of these learning days and the learning direction for the school.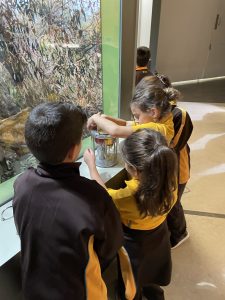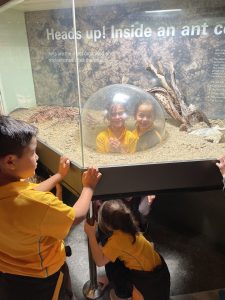 The Yr 1-2 children spent a fabulous day at the Melbourne Museum on Tuesday the 18th. The day started with the arrival of a double decker bus to transport them to the museum. The whole school was excited to see it arrive and rushed to the front gate to see it pass by. I'm sure there are many children hoping to have this bus for their own excursions in the future! Our Prep children are off to Animal Land next week with the Yr 3/4 children off to Scienceworks the following week.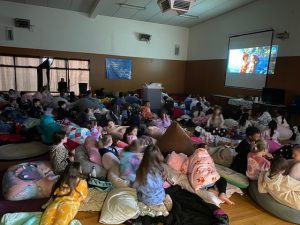 Last Friday night the Parents Auxiliary organised a Pyjama Party with Prep-2 at one session and Yrs 3-6 at a second session. Children could be seen walking in the yard with bean bags bigger than themselves and warm sleeping bags ready to snuggle into. It was a joy to hear the excitement as they socialised with each other, ate popcorn and icecream and had a special night together. Thank you to Sabrina and the PA for organising this for our children.
A reminder that we are a no food sharing school. This includes party food including lollipops and cake. If you wish to provide a treat for the children on your child's birthday please send small party favours such as a pencil, rubber, sharpener or similar rather than food. Please do not be offended if we send home any food items that you sent to share with the class.
Thank you for your support with the wearing of the correct winter school uniform. Students have been taking great responsibility in wearing the correct uniform. I know this is also through your influence and insistence that they wear the right uniform. 
Last night the Yr3 parents gathered in Cooinda for a family Reconciliation workshop. Our facilitator, Nelson Graeme, led everybody through the concept of reconciliation with great videos and at times, song! Nelson is a fabulous musician and entertained us with his guitar and music. Next Wednesday we keep the Yr3 children in our prayers and thought as they participate in the sacrament of Reconciliation at St Christopher's church.
Cathy