Prep Siblings 2022
Planning is well underway for Preps in 2022.  If you have a sibling due to commence next year, please advise the office if you have not already done so.
An enrolment form is available on the website for you to download and complete.  Please forward the enrolment form and attached certificates to the office by Wednesday 10th March.
Please email or call the office if you need to discuss any enrolment enquiries. office@sakeilor.catholic.edu.au, Ph: 93364294.
---
Volunteers – Code of Conduct and Working with Children Check
All parents/volunteers are required to sign in at the office when volunteering at school or helping out at offsite school events.  You will be required to bring your Working with Children Check Card with you, which will be photographed on the ipad when you sign in.
You will also need to  agree to the Code of Conduct when signing in.  You are encouraged to read through this document. Code of Conduct
---
School Photos – Late Orders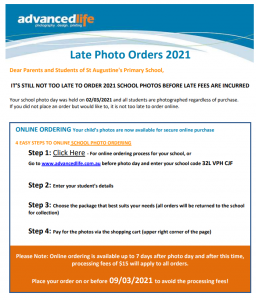 ---
Student Absences
St Augustine's Primary School Keilor, acknowledges that education is compulsory for children and young people between the ages of 6 – 17 years, in accordance with Part 2.1.1 of the Education and Training Reform Act 2006, unless an exemption has been granted.
Daily Student Absence Notification
All parents are required to ensure their child attends at St Augustine's Primary School every day. Where your child is unable to attend school it is the parent's responsibility to access the St Augustine's School App and fill in the form providing all required details to inform the school of the child's absence. The absence form needs to be submitted by 9.00 am if your child will not be attending school.
Prolonged Absences
Parents should inform the school in advance of any planned absence. Please also email your child's teacher if they will be absent for a prolonged time.  Sufficient notification must be given where the absence is anticipated for greater than 2 weeks. Note: Long periods of absence are discouraged. Parents are expected to plan family holidays during school holiday periods where possible.
Late Arrival
Where a student is late for school it is the parent's responsibility to direct their child to collect a late pass from the office.
Unexplained Absences
In the event that contact is not made with the school on the morning of the absence the school will make contact with the parents, via SMS, to inform them of this occurrence. Where a parent fails to respond to the initial contact by the school within 1 hour, a second attempt to contact them will be made. In the event that this communication remains unsuccessful, a subsequent attempt to contact individuals identifiedas the student's emergency contact will be made. The school will make all reasonable attempts to determine the location and wellbeing of the student.
For any further information, click on the Student Absences tab on our website.
---
NCCD Fact Sheet for Parents, Guardians/Carers
WHAT IS THE NCCD?
The Nationally Consistent Collection of Data on School Students with Disability (NCCD) takes place every year. The NCCD is a collection that counts:
the number of school students receiving an adjustment or 'help' due to disability
the level of adjustment they are receiving to access education on the same basis as other students.
Click on the link for further information: https://www.sakeilor.catholic.edu.au/wp-content/uploads/2021/03/NCCD-fact-sheet-for-parents-guardians-and-carers.pdf
---
2021 School & Composite Fees
A reminder that if you are paying your fees in full, this needs to be done by Wednesday 24th March or
Divide your amount owing by THREE (3) instalments due by:
Wednesday 17th February (Instalment 1 now overdue)

Wednesday 5th May (Instalment 2)
Wednesday 28th July (Instalment 3) – ALL FEE payments to be completed by this date.
Payments are accepted by CASH, CHEQUE, DEBIT CARD or CREDIT CARD
Also, you may pay directly into the Schools Bank BSB 083 347 Account 541 283 955 using your account number as a reference.Payments via this method would be weekly or monthly ensuring that all fees are finalised by the Wednesday 28th July.
---
PARENT'S AUXILIARY NEWS
Bunnings BBQ Fundraiser
Our Bunnings BBQ fundraiser will be held on Sunday 14th March.  Come along, buy a sausage and support this fundraiser.  Many thanks.  If you wish to donate to the fundraiser, we are seeking the following by Wednesday 10th March:
Coca Cola/Coca Zero/Sprite multipack 375ml cans
Tomato/mustard/barbeque sauce squeeze 500ml bottles
Serviettes packs
---
Cookie Dough Fundraiser
A reminder also that cookie dough orders are due in prior to the 15th March.  All orders are online.
---
Easter Raffle
Each family will receive a book of raffle tickets soon.  Tickets are 50 cents each.  The raffle will be drawn on the last day of Term 1, Thursday 1st April at 12.40 pm.
Once again we are asking for your support in the form of donations of Easter Eggs and Easter themed items (no alcohol please).  The more donations we receive, the more prizes.  A basket will be placed in the foyer of the school office for you to place your donations.
Thank you in advance for your support of this fundraiser.