Student Leaders Report
Welcome back to term 2 everyone! We hope everyone had a great school holiday and got up to some fun stuff. 2 weeks in and already a lot has happened. On Tuesday our first day back we had our Anzac Day service to commemorate the brave Men and Women who fought at Gallipoli in 1917. It was so great to be able to do this as a school as it is a very important day to remember.
Last Friday was the first week of Winter Inter School sports. This term sports include netball, softball and tchoukball. We all won our first game. The netball scores were 22-0. Softball scores were 10-11 and tchoukball was 27-13. We played well and showed great sportsmanship.
On Monday some of our year  5 /6 girls went to the soccer gala day to represent St Augustine's. They versed a whole lot of different schools and ended up winning the whole day so they are now onto the next round Divisionals – Congratulations Girls!
Our SRC leaders are going to be going around to all. the classes over the next couple of weeks to ask students what we can do to make our school community an even better place.  We would love to hear your feedback.
This Sunday is Mother's Day! Make sure you do something special for your mums as they do so much for you. Hopefully you were able to buy something nice at the Mother's Day stall to surprise your mum.
Hopefully you have a great week and did lots of great learning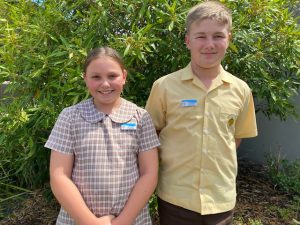 Ethan and Sophie
School Captains
---
Around the school 

Boys Soccer Gala Day- Overall Winners
Curriculum News – Term 2 
Click on the links below to see what our students are focusing on this term
---
Cyber Safety Education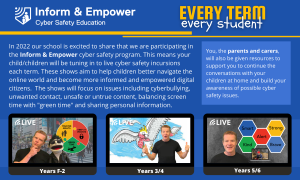 Screen Time vs Greentime Article
---
AFL Gala Day
Our mixed AFL team competed in a round robin competition whereby they played against other schools in our area. St. Augustine's won all of their games and progressed onto the Grand Final which they went on to also win. Congratulations to our players on an outstanding day of sport and teamwork!
---
Award Winners
Congratulations to the following Award recipients for going above and beyond to make a difference and for displaying our STARR school values: Show respect, Teamwork, Always persist, Responsible, Resilient.
S.T.A.R.R Students
This award is for individuals who shows all the qualities we would like to see in a St Augustine's student. These students display the STARR characteristics/dispositions, Values that are highly valued by all at St Augustine's.  e.g Show Respect, Teamwork, Always Persistent, Respectful, Responsible.  Congratulations to the following Award Winners: