FIRST PA MEETING OF THE TERM
The first PA meeting of the term will be held this Friday at 9am at Cafe 692 in Keilor Village. All welcome.
---
Trivia Night – Book NOW!
The trivia night will be held on July 30th at 6.30pm at Legends Bistro Moonee Valley Race Course. Tickets for the trivia night are available for purchase until 22nd July.
This promises to be a night filled with fun and some amazing prizes.
We have so much on offer including an overnight stay at Crown Towers Melbourne. Given this is our first major fund-raiser since covid, we would love to see support thrown behind our school and community.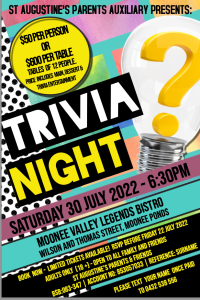 ---
Pie Drive
The delicious PA Pie Drive is on again this year.            

We have organised with Tony's Pies of Essendon  to conduct  a Pie Drive. Tony's Pie's will supply us with a range of their freshly baked pies, pasties, quiches and sausage rolls on Friday, 19th  of August.
All the products will be freshly baked  and will be suitable to go straight into the freezer if you wish.
So order up BIG.  Remember, the more you order the more we make. 
Pie Orders will need to be submitted by Thursday 11th August.  Cash and Order form to be returned to the office.
Pie orders will be delivered to the school for collection on Friday 19th August.
---
LUNCH ORDERS
Lunch orders are due no later than 
Mon
day 2
5
th 9am. Fish & Chips or Nuggets & Chips $6.50
Pop top juice $1.50
Please ensure correct money is placed in a clearly labelled paper bag.
No late orders please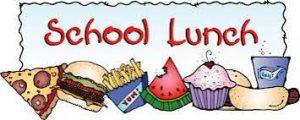 ---
BUNNINGS BBQ
Our annual 
B
unnings BBQ will be held
Sunday 28th August.
We will need volunteers to cover 2 hour shifts from 8am-4pm
If you are available to assist please register with Maria Long. Please text her on
0432473196 to secure your shift.
A special thanks to MOSA (Men of St Augustine's) for covering the cooking on the day!
We will also be seeking donations for the day.
We require serviettes, paper towel, soft drink cans
 &
 bottled water
Please text Claire 0432 538 556 or Maria 0432 473 196 to arrange drop off/collection of items.