Let Us Pray
Blessed Mother Mary, Mother of all, You have been there for us always. Thank you for guiding us on life's journey. You have been our guide and taught us to trust. Keep us in your loving care. Help us to know your Son Jesus better and walk in His way. Mother of Jesus and Our Mother, nourish our family with your faith and your love. Keep us close to your Son, Jesus, and make our family one with you. Help us to be instruments of peace, love and strengthened by grace. May we always have God at the centre of our hearts and homes. Amen.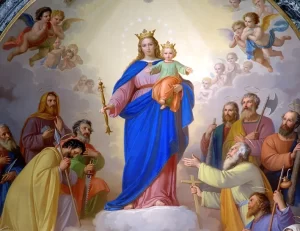 During the month of May we traditionally remember "Our Lady, Mary." Australia's feast honouring Mary under the title of "Mary Help of Christians" occurs on 24th May. In the image of Mary Help of Christians, both Mary and the child Jesus wear crowns, a sign that they share the glory of the kingdom of God. The Feast Day of Our Lady Mary Help of Christians has been celebrated in Australia since 1844 . The early church in Australia had a special reason for turning to Mary. No priests were sent to the colony in its early days. It was largely the Rosary in those early days that kept the faith alive. The Australian Catholic community remained faithful to Mary and Australia was the first nation to choose her under the title, "Mary Help of Christians" as principle Patroness. Australia also became the first country to have a cathedral dedicated in Our Lady, Mary's name. St Mary's Cathedral in Sydney was dedicated in her honour.
First Reconciliation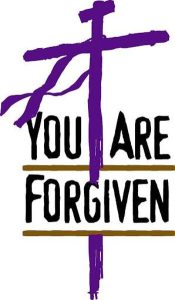 The Year 3 children have been preparing for the Sacrament of Reconciliation.  This will take place on 25th May where they will come together to celebrate and receive Jesus' peace and forgiveness. It is a special time for them and their families. It is also a reminder to us all that the church offers this Sacrament as a time when we are helped by God to get back on the right track, so we can be closer to Jesus.
Let us continue to pray and keep the children in our prayers.

Project Compassion
Thank you and many blessings to all at St Augustine's School Community for supporting our Project Compassion Lenten Appeal.  Your generosity is truly appreciated.  The total donated came to $1272.
Where Project Compassion funds Go
https://www.caritas.org.au/about/what-is-caritas/where-our-funds-go/
Your support is the life blood of our humanitarian work. The generosity of kind everyday people is what makes a difference to the lives of vulnerable communities around the world. We value the donations from our supporters and the trust given when investing in our programs and the commitment to bring hope and change to vulnerable people. When you donate to Caritas Australia, you can be sure of our careful stewardship of your contribution. We pride ourselves on having one of the lowest administration rates in the sector.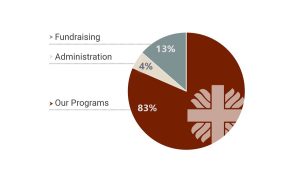 83% of funds are spent on Local and International Programs, including vital education and advocacy programs in Australia.
4% of funds are spent on essential administration costs, including our talented people.
13% of funds are spent on Fundraising, so that we can maintain and expand the scope of our humanitarian partnerships, which reach over 3 million people each year.