Let Us Pray
Spirit of God, grant me:
The gift of wisdom To see the world through your eyes,
The gift of counsel To make difficult decisions,
The gifts of knowledge and understanding To use my mind to know you and to love you,
The gift of fortitude To have the courage to live in the faith Despite the difficulties and disappointments,
The gift of piety To be able to express my special love And commitment to you,
And the right kind of awesome fear That makes me pause to wonder and revere God's Love.
Amen.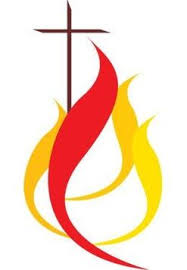 Please keep our Year 6 students in your thoughts and prayers this week as they prepare for the Sacrament of Confirmation. They will be confirmed by Rev Bishop Terry Curtin on Friday night at St Christophers Church.
May the Holy Spirit enlighten them with your love- Amen
---
Catholic Education Week 2023
Our student Leaders and SRC students recently attended the Mass of St Patrick for Schools held on Friday 17 March celebrated by Archbishop Peter, followed by the Concert in the Park. It was an amazing awe inspiring day. Thank you to Eva and Tania for assisting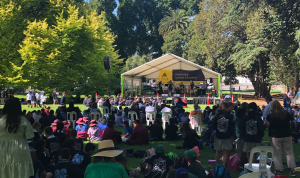 The theme for this year's celebrations was 'Forming lives of faith, hope and love in the light of Christ'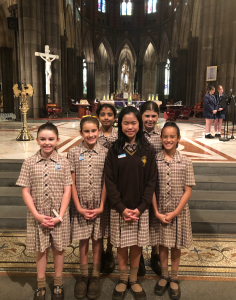 ---
ECSI -Enhancing Catholic Identity Parent Survey
Thankyou to all those who have completed the online RE ECSI survey.  The survey results will assist us in better understanding how our Catholic identity is expressed in work and practice here at St Augustine's.
If you received an email invitation to complete the survey, you are asked to complete the survey online by the end of Term 1. Try not to get caught up in the questions, simply respond intuitively.
To access the survey please follow the steps below
Access the surveys at www.ecsi.site/au/user/
Enter the case-sensitive password Ghj654 and click login.
If you're a new user: Click the New user button.
If you wish to continue a previous session: Enter your User-ID and Password.
Enter the school's Survey Access Code –  Wd15YA  (Case sensitive)
---
Project Compassion
The theme of Project Compassion 2023 is 'For All Future Generations' and reminds us that the good we do today extends to impact the lives of generations to come.  Thank you to all those families who have been collecting money through the Project Compassion Boxes.
Please remember to retun all Project Compassion boxes by the end of term.
---
Sacramental Program Dates
First Reconciliation ( Year 3)
Thursday 25th May 6.30pm- 7.30pm @ St Augustine's Church, Airport West
Sacrament of First Eucharist (Year 4)
Sunday 13th August 9am @ St Augustine's Church, Airport West – 3/4 AC
Sunday 20th August 9am @ St Augustine's Church, Airport West – 3/4 M
Sunday 27th August 9am @ St Augustine's Church, Airport West 3/4 S