Let Us Pray

Loving God, our hearts give thanks for all who have served under arms in wars and fought for freedom. We remember those who fell in battle and offered their bodies, hearts, and energies fighting for a better world. We give thanks for all who fought for liberty, freedom and justice. We honour those who made the ultimate sacrifice of losing their life to preserve our living. Grant that they may rest in your peace.
As the sun rises and as it sets, We remember them. When we enjoy our life and our freedom, We remember them.   When we witness courage and strength, We remember them. When we feel protected and supported, We remember them.  When we celebrate our friendships and share our burdens, We remember them. When we strive for peace and justice, We remember them.  When we give thanks for those who lay down their life for their friends, We remember them. When we pray for God's blessing on all who have given their life in service and in love. We remember them.  As long as we live, they too will live; for they are now part of us. We remember them. Amen
Context of What is Remembrance day
At 11am on the 11th day of the 11th month each year we remember the moment in 1918 when World War I came to an end. On Remembrance Day, we remember Australian men and women who have served in war and peacekeeping activities. Remembrance Day does not glorify war – it honours the memory of all those who laid down their lives for Australia. As a mark of respect to those who have served, we always stop to observe one minute's silence. One thing we can do for the people who fought for our country, is to continue the tradition of remembering them.
Scripture
A reading from the holy Gospel according to John (John 15:12-17)
My command is this: Love each other as I have loved you. Greater love has no one than this: to laydown one's life for one's friends. You are my friends if you do what I command. I no longer call you servants, because a servant does not know his master's business. Instead, I have called you friends, for everything that I learned from my Father I have made known to you. You did not choose me, but I chose you and appointed you so that you might go and bear fruit—fruit that will last—and so that whatever you ask in my name the Father will give you. This is my command: Love each other.
The Gospel of the Lord.
Lest we forget. They shall not grow old as we who are left grow old. Age shall not weary them. Nor the years condemn, At the going down of the sun and in the morning We shall remember them.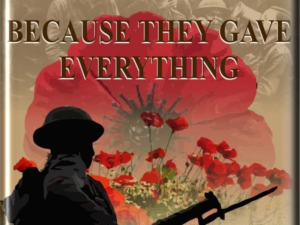 ---