Hi families,
Welcome back to a new school year and for our new Prep parents, welcome to the next exciting stage in your child's life.
Once again over the year I will be providing many wonderful tips from leading parent experts that can help you along your parenting journey.
Today we look at how to settle your child into the new school year with hopefully some ease and excitement.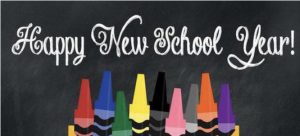 TEACHING RESILIENCE
PARENTS CAN GUIDE STUDENTS TO FIX THEIR OWN PROBLEMS AND GET BACK INTO THE SCHOOL GROOVE
Patrck TADROS
With kids and teens starting the school year this week, experts are urging parents to talk to children about their concerns, and lead them back to reassurance and resilience.
Parenting expert and host of The Happy Families podcast, Dr Justin Coulson, says Covid-19 is still causing disruption in children's behaviours.
"Kids will either struggle with friendships and relationships, or because they have anxiety or mood disorders, or because they don't feel capable or competent," he says.
"The school environment cannot always effectively satisfy the basic psychological needs of all children, mainly because there's one teacher looking after a large number of kids or it could be due to personality differences.
"Children are always going to feel like they're incompetent or unable to manage their emotions. Sometimes there's family dysfunction or psychological difficulties."
Not all is lost. There are ways parents can help make the experience something for children and teenagers to treasure.
CALM ANXIOUS MINDS
Anxious feelings are expected in children returning to primary or high school, changing schools, or for teenagers starting university.
But don't immediately jump in to fix it for them, warns Michael Hawton, psychologist and author of The Anxiety Coach.
"Control your own compulsion to take away their struggle from them," he says.
"Acknowledge how they are feeling and then talk to them about how they can problem-solve their way through the worrying experience they are facing.
"Work out what to do by way of scaffolding their thinking through the issue at hand. Ask curious questions like, 'If by some miracle you did a great job of giving your talk to the class, what are the steps you'd have to take to make that happen?'
"Teach them simple self-calming and grounding techniques to help them to return to calm."
Coulson says parents forming a good relationship with teachers is critical: "Do what you can to help your child know who their teacher is and develop a good relationship with them and make sure you're all on the same team," he says.
"Find ways to help children to develop friendships with students in their classroom. The more friends at school, the more comfortable they'll be about being there."
RE-ESTABLISH ROUTINES
Coulson suggests preparing them by resuming school-year routines the night before.
"Get everything ready so there is no pressure in the morning," he says.
"This includes getting the school bag, uniform, socks and shoes ready, knowing what's going on the sandwich and making sure the lunch box is in the fridge. All of these will reduce friction in the family which means the transition to school will be smooth and calm."
Packing lunch boxes with plenty of fruit is the best way to ensure their sugar needs are met.
Create balanced lunches, including things like vegetable sticks, nuts and cheese.
The Sleep Health Foundation recommends primary school students need between nine and 11 hours of sleep each night, while eight to 10 hours will suffice for high school students. Remove all tech devices before bedtime.
Malcolm Elliott, president of the Australian Primary Principals Association says: "It is essential that families have established clear rules for the use of screens, including phones, and that these rules are carefully maintained.
"Open communication about the pros and cons of tech use will pave the way for much safer, happier futures for children."

Children with medical conditions
Just a reminder if you have a child with a medical condition could you please complete a medical action plan for your child and return this to the school ASAP.
This will need to be signed by a doctor.
You can find these plan on the school website. These need to be completed annually so that we can have up to date information.
Thanking you,
Ms Jodie