(Up to term 3 2020)
From the Principal
Term 2 Week 8
Back To School on Tuesday 9th June!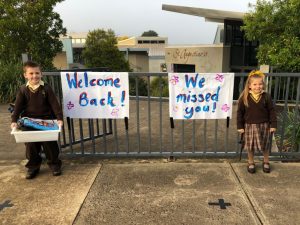 It has been a challenging few months as we continue to ride the COVID19 wave. It has only been with the support of staff, families and students that St Augustine's has ensured that our children could come back to school and feel safe, supported and back in routine. Next week we see the Years 3-6 children return.  We are all looking forward to having all the children back!  Our P-2 children have transitioned beautifully so I expect the same will be said of the years 3-6 children. Remember the 3-6 children will have their school bag and tub to carry on Tuesday. I suggest they place their device in their bag to help with the weight of the tub. The pick up and drop off will be a bit busier, but with patience we will all adjust and do the right thing. The times have slightly changed with a more staggered window to arrive at school. Hopefully this will ease congestion as we welcome back all families. I encourage families to park their cars in surrounding streets and walk your child to school.  This will ease traffic congestion. The side gate at Linear Park will also be open next week for any child to enter. The 'Back To School' letter is once again attached with a few amendments to reflect the transitioning back to school for the Yrs 3-6.
Drop off in the morning has proved to be easier than pick up as cars arrive and are ushered into available spaces.
A-K arrive 8.30am-8.40am

L-Z arrive 8.45am-8.55am

Move to the available spaces as indicated by a staff member.

Parents to remain with car. Please do not walk your child to the gate.

Children to walk to the relevant gate (See below)

Cars to move off to allow next cars to stop
Pick up
A-K arrive 3pm-3.10pm

L-Z arrive 3.15pm-3.25pm

Fill up available spaces upon arrival.  You are permitted to park for 2 minutes in the designated areas. Please note that any longer may incur a traffic fine if traffic officers visit the site. Always read the parking signs.

Parents to remain with your car.

Older siblings to find younger siblings at front gate to walk together to the car

Children to walk to their car.

Cars to move off to allow next cars to stop
WHERE children enter/exit the school
PrepC, PrepAC, 1/2/V, 1/2T, 1/2R & 3/4M
These children to enter/leave via the front gates where a staff member will direct the children to their rooms at the start of the day and parents at pick up
3/4S, 3/4A, 5/6C, 5/6A, 5/6L
These children to  enter/leave via the staff carpark gate where staff members will escort the children to their rooms at the start of the day and parents at pick up
The Linear park side gate will also be open
Children who have previously walked home or walked to the car that is parked outside of the drop off zone, can continue to do so as long as this is the instruction from their parents.
I am pleased to inform the St Augustine's community that Mrs Clare Kheir, our current Mathematics Leader, will also be working in 5/6A on a Friday. The children are familiar with Clare and this has resulted in a perfect fit in what has been a difficult time for the community, especially the 5/6A children. Mr Chris James will be taking on the added role of P-2 ICT teacher. Once again the junior children know Chris well and I know have enjoyed his classes over the past weeks.
A big thank you to Thomas and Elizabeth, our school captains, who have organised our awards video each week. Thank you to Thomas who has ensured the captains have kept in contact with the school with offers of assistance throughout. Well done!
A reminder that the school will be closed this Friday 5th June as the teachers engage in Professional Practice Time.  The school will not be open.  Big Child Care are offering their services if you need your child cared for on this day.  It is free so take this opportunity to check out this service even if it is for half a day and even if you simply want time to catch up on your own things! Be sure to register before you arrive on the 5th.
Statements for school fees will be emailed out next week. Please know that this is just for your information as many families have requested an update of their accounts .
Here is a link to a 'Happy Dance' created by Michael, Jack, Noah & Marcus from 5/6A as they look forward to coming back to school.
Enjoy your extra long weekend as we look forward to the whole school coming back together on Tuesday.
Cathy