From The School Captains
Hello, Parents and Students, I hope that you are all well and that home learning is going great.
Although we are at home we still can have fun by playing board games exercise and keeping active. 
I also hope that this Sunday the Mothers have an excellent Mothers day and although there is no mothers day stall, we can still buy our mum's incredible gifts. You can even make a card for your mum or make something your mum would love. Mum's like your presents if they come from your heart.
We also need to pray for all the healthcare workers and their families as they are trying to help us battle the Coronavirus. We need to stay at home to help stop the spread and to make fewer results for COVID-19.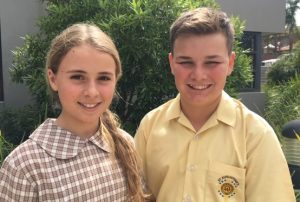 Thomas & Elizabeth
---
Remote

 Online 

Learning in Action
Congratulations to everyone for the way each person has adapted to the challenges of remote online learning.
Our teachers need to be commended for their commitment to their work. This is all very new to them as well and they have been going above and beyond in their efforts.  Our teachers are working diligently and with determination to do their best for our students whilst also isolating at home during the pandemic.
It has been amazing to see the creative and practical learning being undertaken by our students in this new learning environment.  I have been following all the wonderful videos, photos and work that are being posted on Seesaw. Well done to the teachers for their commitment. I am delighted to see so many students posting their completed tasks online, posting videos of themselves engaging in tasks and joining in their class google meetings. Wow look how far we have all come in such a short amount time!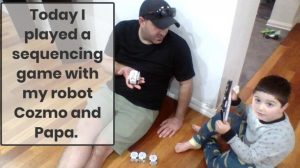 Thank you to all our parents for your ongoing support. As a school, we are navigating our way forward and exploring new frontiers and continuing to explore ways we can make this all work for everyone.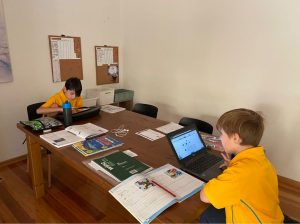 Parents you are doing an AMAZING job in supporting your children so please be kind to yourselves, do what you can, where you can and with what you can. Just do your best!
Weekly Tips
Writing up a timetable for your child each day is working well for some families. Remember to jot down you class Google Meet time/s.
Don't forget to give your child plenty of breaks during the day, schedule these around your busiest times if you need to
Have fun. Allow time for the subjects your child enjoys.
Our specialist teachers are providing some really interesting work for your children to have a go at week so -remind them  to PERSIST even if it is tricky at first.
---
Family 'Nature' Challenge 
It was great to see everyone getting out n about enjoying time in the great outdoors before the weather turns nasty. Hopefully you all enjoyed your time together as a family.