From The School Captains
Hello and welcome back it has been a busy four weeks since we last wrote a piece, we have finished our swimming program which was a blast. However COVID-19 has definitely created some concern but during this time our school community has thrived like never before. A special thanks to Signora Carmela for arranging our Carnevale parade last week where all classes paraded their masks, it was great to see so much colour and happiness at the end of the day.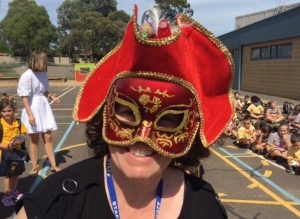 We also pray for the elderly who are suffering with this virus so keep them in our prayers, although this is a tough time for families we need to stay positive and calm. School will still be running and we are following all the safety precautions necessary to maintain St Augustines as a safe place for learning. It was disappointing to have to postpone our Confirmation Mass this Friday but we know that it is important to be safe as a whole community and this is an important decision to make, we pray that we will be able to celebrate our Confirmation with the Bishop later in the year.
The good news is that the school holidays are near!! We hope you enjoy your school  holidays, this is going to be the last newsletter of this term and we don't know if this Virus will make us stay at home longer. So thank you for your support during this term and please keep safe and hopefully see you back at school very soon.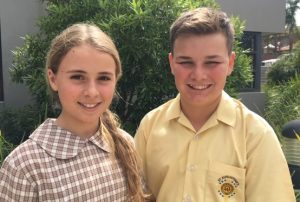 Regards, Elizabeth and Thomas
2021 Prep Enrolment Session & Tour
Recently we had two very successful Prep Enrolment Sessions and Tours. We had a large number of visitors who came to hear what it is that makes St Augustine's so special. It is always wonderful to meet new families and get to hear about the strong family connections within our school community.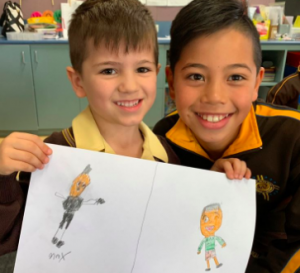 ---
Catholic Education Week
The theme for Catholic Education Week for 2020 is The Future is Listening.
Catholic Education Week is an opportunity for all Catholic schools in the Archdiocese of Melbourne to celebrate their Catholic identity, the pivotal role they play within their local community and the strength of the sector.
This year we are excited to have three of class pieces from our Art Show on display in the Creative Arts Exhibition for all to see and admire  (34 T and 56A Class Art pieces)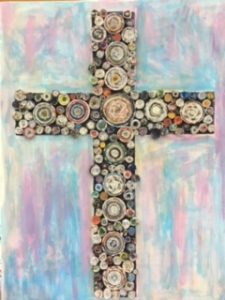 The Catholic Education Week Creative Arts Exhibition showcases the wonderful artwork of primary and secondary students in the Archdiocese of Melbourne. It reflects their creativity in a broad range of impressive and inspiring works across disciplines including painting, photography, sculpture, fashion and film. The exhibition is a powerful tribute to their young lives and gives a brief insight into their world.
---
Carnivale MASK PARADE & CASTAGNOLE Donuts
Carnevale is a significant festival held all over Italy and is known as the 'last party before the 40 day fast'. Traditionally in Italy it is a time for fun, feasting and celebration before Ash Wednesday and the beginning of Lent.
The wearing of masks at Carnevale is a very old tradition in Italy and our students had lots of fun decorating their own masks to wear for our Carnevale Parade, held on Thursday 12th March.  The children proudly wore their amazing, colourful and creative masks. Thank you to all of the parents, carers and friends who came along to join us in this exciting school event.
The children in Prep and Year 3 / 4 were also treated to a special Italian lesson, preparing and eating delicious, sweet,  Italian 'Castagnole' / Carnevale donuts. DELIZIOSE! 
Thank you/GRAZIE  to all of our parent helpers and 'nonna' helper who were kept busy cooking, demonstrating and cleaning up. The children enjoyed having you in our classroom.
What a wonderful day for all! MAGNIFICO!
Signora Carmel Di Lorenzo 
Italian Teacher
                      Carnevale Italiano Ecco la Mia maschera.
---
Year 34 Dance Incursion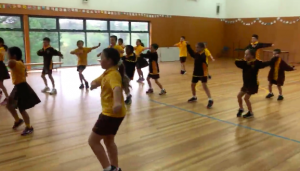 Last Friday, our Year 34 classes took part in an incursion that immersed us into the traditions of various countries as we are currently learning about the history and values of the Olympics. We were very excited to celebrate one of the cultures that held the Olympic games.
---
Award Winners
Congratulations to the following students for making a difference and Being the Best ME!
Week 6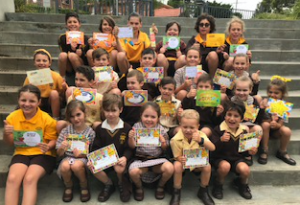 Week 7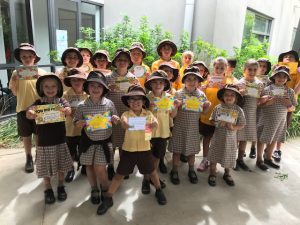 ---
MUSIC ROCKS
Private Instrumental lessons offered at school with Mrs Padden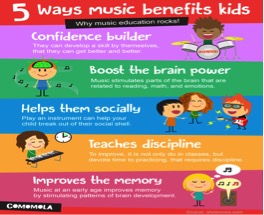 Guitar   Beginner/Advanced uke    Bass uke/guitar
Lessons are 30 minutes duration and can either be individual one on one or in small groups, maximum of three people per group. The lessons are offered to students from Grade 2 to 6.
This is a wonderful opportunity for students who wish to try an instrument for the first time or to extend what they have been learning at school, in a familiar and convenient environment, either alone or with one or two of their friends. It is required that students bring their own instruments.
There will be opportunities for students to apply their new skills by performing in front of school and community audiences if that is of interest. It is highly recommended as a great way to set and realise achievable goals to experience the thrill of audience appreciation.
Lessons will be available on Monday afternoons and Thursday afternoons. Lessons will be scheduled within normal school hours so current pickup and drop off arrangements can be maintained. Each fortnight the lesson time will be rotated so students do not miss out on the same subject all the time. Lunchtime and immediately after school lessons are also possible by arrangement.
There will be 8 lessons scheduled in a 10 week term to allow for make up lessons if someone is ill, if there is a holiday, an inservice or a camp, sporting activity or excursion a student needs to attend.
Payment is at the beginning of the term $250 for 8 lessons Private and $200 for small groups (2-3 people).
For more information please contact Jane Padden at jpadden@sakeilor.catholic.edu.au