Celebrating 40 Years at St Augustine's
From small things, big things have grown in Keilor.
In 1979, St Augustine's Primary School opened its doors with 93 students and seven staff.
Now, celebrating its 40th anniversary, the school has 255 students and 36 staff.
School principal Cathy Steere said that while the school had evolved, it has always stayed true to its beginnings.
"It was always considered an unusual location for a school as we are built on the edge of a hill that drops down into the gully beside Taylor's Creek," she said.
"But it really has the feel of an urban school in a rural setting. What was considered a challenge 40 years ago has become our blessing as we reconnect with nature and look for opportunities in environmental studies.
"We have always been a close community school, that hasn't changed over the years. We have many parents and grandparents who attended the school with their own children now attending.
"Over the 40 years, we have seen many changes, including building additions in the library, hall and admin block.
"We have also seen the school progress from just pen and paper to excelling in technology with a strong STEM program, including us being robotic champions over the past years."
The school has marked its anniversary with an art show and a family bush dance, which
Ms Steere said was a great opportunity to bring the community together.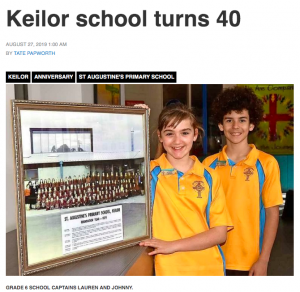 Brimbank Star Weekly Article