The mission of St Augustine's Primary School is to provide a Catholic school education for Catholic families within the Parish of Airport West.
Once a child begins their four year old Kindergarten year, contact should be made with the school. Children who are to be admitted in Prep must be at least 5 years of age on or before 30th April.  An information session/s will be held in March and all parents applying to enrol a student at St Augustine's will be required to attend this meeting and subsequent interview with the Principal.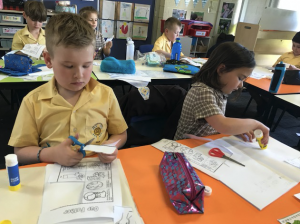 Enrolments in other grades are accepted throughout the year based on availability. Applicants from other parishes are considered however priority is given to siblings of current students and Catholic families moving into the parish.
Life at St Augustine's
Online Enquiry
If you wish to make an enrolment enquiry online, please fill out the below Google Form and one of our office staff will get back to you ASAP. If you have any other queries, please don't hesitate to contact the office on (03) 9336 4294.
Please click on the Timeline below for details of our enrolment process.
An Enrolment Form can also be downloaded below
Timeline for 2024 Enrolments
Enrolment Policy
Enrolment Boundary Map
Enrolment Procedure
Enrolment Form
Consent to Transfer Form
Family Occupation List
School Enrolment Agreement
Parent Code of Conduct
Photography and recording permission form
Medical Management Plan
Minimum Age -Exemption Application Form
School Student Retention Policy
Noone's Uniform Price List
Parent Handbook 2023