Student Leaders Report
Hi Everyone, the last two weeks has been a very busy time at school. Some Students were selected again into the second round of STEM (Science, Technology, Engineering and Mathematics) congratulations to everyone who made it to the second round and for representing our school. Some more good news is that Melbourne is opening and that we are getting less and less cases of COVID-19 and we are so close to getting back to normal so please if we do what is correct it will help us and hopefully we can get back to normal as soon as possible. It has been a really good two weeks since we came back to school and to see everyone back.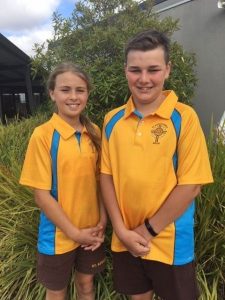 Thomas and Elizabeth
---
World Teachers Day
This Friday 30 October, school communities across Victoria will celebrate the significant contribution that teachers make in shaping the lives of children and young people, their families and communities.
It has never been a more important time to recognise the incredible dedication that Victorian teachers have shown during 2020 – a year of unprecedented challenges.
To all the wonderful teachers we say 'THANKYOU' You are all amazing! Click on the image below to listen to Jazelle's wonderful message
---
Around the Classes
As I made my way around the classrooms throughout the week, I was struck by how obvious it was that the children were loving being back in their classrooms with their friends and teachers. After such long lockdown periods, it was great to look and feel like a school once again!
Our highest priority has been on the mental health, wellbeing and safety of all children as they have returned to learning. Our next priority must be learning and teaching. Some students were better able to progress in their learning in the remote and flexible learning environment, others maintained their rate of progress, and some have, despite their best efforts and those of their families and teachers, have struggled. Our priority this term will be to ensure that all students are supported with their learning.
Mrs Fedoruk (Learning & Teaching Leader)
---
Student Reporting
As was the case in Semester 1, 2020, student reporting in Semester 2, 2020 will look a little different
to previous years. Reports will be modified to reflect the adjustments that our school has made to the curriculum
programs in response to the needs and aspirations of our school community, and the disruption
caused by COVID-19.
Student reporting in Semester 2, 2020 will focus on what progress has been made and what has been
achieved by each child. Schools have been encouraged to keep reports simple but make them meaningful.
Student Reports will be in line with the guidelines set out in the CECV Guidelines Semester 2, 2020 F–10 
Actions for schools 
Schools must
provide a written report (print or digital) in an accessible form and easy for parents/carers to understand for Semester 2, 2020;
provide the opportunity for parents/carers and students to discuss the school report with
teachers, consistent with each school's usual end of year approach but subject to any relevant health advice.
Reporting progress in English and Mathematics
For English and Mathematics, schools must:
provide a short description of what was taught; and report achievement by making a teacher judgement against the Victorian Curriculum F-10 achievement standards; and report progress from the last time that curriculum area was reported on; and include an age-related five-point scale
Reporting progress in other curriculum areas. 
For all other curriculum areas delivered, including Religious Education, schools must provide a short description of what was taught. In addition, schools must provide either:
a teacher judgement against the Victorian Curriculum F-10 achievement standards and/or use
a five-point scale (this is optional and should be used only if enough assessment evidence is
available); or a short comment on progress and achievement in their learning across the Semester.
Semester 2, 2020 F–10 student reporting requirements
Reporting student participation and engagement
Schools must also provide a comment on student participation and engagement in the learning
program offered in Semester 2 2020, with reference to the Personal and Social Capability in the
curriculum.
---
STEM MAD SHOWCASE
On Tuesday our QUEST finalists attended the Virtual STEM MAD SHOWCASE.  This was an opportunity for all schools to share in the learning and participate in a day focused on STEM (science, technology, engineering and mathematics). Activities and presentations, including award ceremonies were streamed live.
A big congratulations to Lara D and Isabella M for winning at the STEM MAD CEM Communication Award at the Showcase this  year.
Not only were the judges impressed with their invention, but also the way they communicated their ideas in the videos they produced.
Congratulations to all the students that participated. 
Click Here
 to view the videos created by our 5 finalist teams if you haven't seen them yet. We think they are all outstanding!
---
Award Recipients
Term 4 Week 2
---
 S.T.A.R.R Student Award
Congratulations Amelia P 12V