Term 3 Week 4
We have been blessed with fine weather these past weeks. We are all grateful that we could get out into the sun and enjoy lunch and recess outside! 
Thank you to the Parents Auxiliary for organising the lunch orders last Friday. The children thoroughly enjoyed their treat. Thank you to all the mums who came along to help. It is true that many hand make light work and we appreciate all the volunteer parents who come to the school to help. Thank you also to Maria and Claire for organising the Bunnings BBQ at Taylors Lakes last Sunday. The day went so well that we ran out of sausages towards the end of the day! The event raised $2070.70! The best result to date. If you would like more information on how you can contribute to the Parents Auxiliary group please call or message Claire on 0432538556.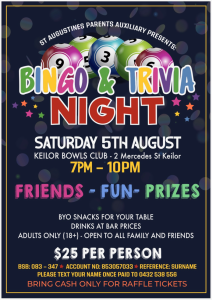 A reminder that the Trivia/Bingo night will be held this Saturday at the Keilor Bowls Club. It will be a fun filled night with plenty of laughs and many great prizes to be won. I still use the fish tank I won last year!  
The MOSA group held an event at the Comedy Club last week. It was a successful night with a number of dads attending with a few new faces participating. Our MOSA group continues to offer friendship, service and growth, with assistance to the school in areas of fundraising and 'odd jobs'. If you would like to find out how you can access MOSA please call or message Teghan on 0418338354.

You may have noticed some changes with the website. We have updated a few areas. The front page looks a bit different with some colour changes and placement of icons. The newsletter link can be found at the bottom of the front page. You will also find a number of other important links at the bottom of the page including a link to St Christopher's Parish newsletter. Another 'knock on' effect of these changes has resulted in the newsletter looking a bit different on the app. When you open the app to retrieve the newsletter it will open to this page. You will need to scroll to the top of my page where you will see the word "Newsletter' in yellow where you can then see the other pages of the newsletter.
A reminder that there will be two school closure days on the 17th and 18th of August. There will be no students on these days. Staff will be off-site on the 18th of August.
During weeks 6 & 7 the children will be celebrating book week by reading and exploring the books from the 'Book Week Shortlisted' books. Monday, 28th August, we will have a book week parade where the children and staff dress up as their favourite book character. Go to the 'Learning Matters' page for more information.
Congratulations to our prep children who will be celebrating '100 days of prep' on Friday. Mrs Anne has also organised for the children and their buddies to plant 100 trees as a commemoration of the year. The year5/6 children have been busy preparing the ground for these trees.
Our first of three First Eucharist masses start on Sunday 13th August at St Augustine's church. Please keep the year four children in your thoughts and prayers as they celebrate this special sacrament.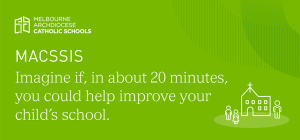 Every year Catholic schools participate in MACSSIS surveys: Melbourne Archdiocese Catholic Schools – School Improvement Surveys. The Staff, randomly selected parents and years 4-6 children will participate in these surveys starting on the 29th August. These surveys are a tool where we can collect, analyse and  interpret data to inform us on our  school improvement. This data tells us about what different people in the school community think and feel about their learning environment. It is a valuable way to reflect on the year and set future improvement goals. If you are a lucky chosen one, I ask that you spend the time to participate and help us with our continued improvement.  However if you do not wish to participate or you do not want your child to participate please send an email to office@sakeilor.catholic.edu.au. Please read the attached letter detailing the above information.
Cathy Steere